COTTAGE REVIEWS

Please scroll down to see past reviews and to leave your own review, click the teamap badge below.


---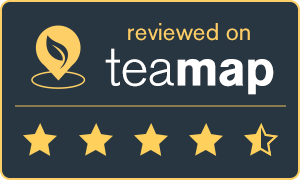 ---


Here are some reviews that have been posted about our Tea Shoppe.
Brambleberry is cute, kitschy (in the best way), and always satisfying. They have a wide tea selection, and lots of caffeine free varieties (the Pina Colada is unexpectedly good). The food is beautifully presented, delicious, and very filling. This shop is comfortable, calm, and doesn't take itself too seriously. I've even been sent home with samples on occasion. Service is great and they always seem to know when you need a new pot of tea. Highly recommended!
- Rae Aug 22nd '16
The ladies at the Brambleberry Cottage are the all time best with which to work. Very pleasant and accomodating, couldn't ask for any thing better.
- Georgia Seeberger Mar 13th '16
Me and my Best friend have been having the pleasure of going to this tea house for the past 17 years. The home made goodies are delightful and the tea choices are endless. If you want the very best tea house and hospitality then look no further then Bramble Berry Cottage. Thank you Dawn Laura and family for all your hard work and love that goes into your tea shoppe.
- Shelly Heyer Jan 31st '16
One of my very favorite places! Dawn are her staff are incredible! The food is homemade and amazing and there are dozens of teas to choose from. I can't even count how many times I've had tea here and each and every time my friends and I have had a great time! Don't miss out on this hidden treasure.
- Traci Price Jan 7th '16
Love love love it! I took my 8 and 4 year old daughters there for a Cinderella themed tea date. The fairy sandwich wands and glass slipper of goodies was such a unique and tasty touch. Great service and great food! We'll definitely be back
- Shelby Apr 3rd '15
_____________________________________
This link will take you to the Tasty Trek Blog where a customer did a complete page review on the Cottage!
_____________________________________
I came here with my family as a birthday celebration for me and my sister.
The little shop is very cute and the service was amazing! Everyone was really
nice and the food was delicious~ when I first looked at the tea menu, I couldn't believe how many kinds they had. I tried several but my favorite was the Earl Grey Cream. :) The only drawback is how quickly everything adds up. Though a little pricey, the experience was well worth it! 5 stars and I will definitely
come back for more tea~
- Jessica 08/30/12
Don't let the location fool you. We pulled up to a barren street with only
one car on it and doubted our choice. Luckily we went inside. The downstairs
dining room is the most charming shabby chic tea atmosphere. The food is
delicious. The two of us could not finish the gold tea service and had to get
the last course to go! And yet I will still get the gold service next time for
the expanded variety of tasty treats. You can have as much tea as you want and
can try as many types as you want. I had three pots of tea including cinnamon
fig, chocolate rose mint, and a great oolong. It was packed with ladies and couples enjoying a Saturday experience. We LOVED it and will bring our friends and family back again and again. What a great surprise!
- Christine 01/15/12
As part of my mother's Christmas gift this year, my sister and I decided to take her to Brambleberry Cottage and Tea Shoppe during my visit.
I'm quite pleased that we did. The space itself was quite charming and certainly lends itself well to drinking a pot of tea and eating a piping hot buttered muffin (or a crumpet or a scone).
The service was excellent. While some may complain that it's a trifle slow, a decent tea should be leisured. Let the vulgar herd rush about hither and thither. Taking a cup of tea should be relaxing.
The food was delicious. It is evident that great care is given to prepare toothsome items to eat with your tea. We began with candy cane scones. These were definitely a hit! They're very delicious and not overly sweet. Additionally, there were crumpets with devonshire cream, strawberry jam, and Oxford marmalade. Each of these were quite delicious. My only cavil was that I would've preferred my crumpets to be rather more toasted and piping hot. This, however, is a minor issue.
After these items, we moved to a potato soup that was, in a word, heavenly. Lightly flavored with soured cream and dill, this transported the delicious (if often pedestrian) cream of potato soup to new levels. I believe that the potatoes were initially baked before being made into soup. I wish I'd asked for this recipe.
Next, we had an assortment of delicious sandwiches (cucumber, a curry-almond roll, and something else) and tea cakes. These were all exceptionally well presented and quite delicious.
I was quite pleased with the teas available as well. While there are certainly a number of tisanes available, I was pleasantly surprised to find a good lapsang souchong on the menu. Later, after discussing the lapsang with the hostess, I mentioned a blend that I purchase at my local tea shop which I find quite enjoyable (JP Morgan -- a combination of lapsang and Earl Grey) . Our hostess promptly offered to blend some for me because she was intrigued by this blend. I didn't have to be asked twice! My mother had the Queen's blend and my sister chose the Duchess blend and both enjoyed the teas very much. There were two minor issues which would make the tea service as close to perfection as possible. First, when we received the tea, it was a trifle cooler than I prefer it. Even with the cozy, it grew cold rather too quickly. Whether this was a result of not heating the tea pot before making the tea or because the ladies working there were quite busy, I'm not sure. However, I'm positive that had I said something, they would've addressed the concern immediately. The other issue was the lack of a slop basin. However, we received one later during our stay.
Overall, I was very happy with the service, the tea, and the food. I highly recommend visiting Brambleberry Cottage and Tea Shoppe. Hopefully, they will find 2011 to be a successful and prosperous year as I hope to return with my mother and sister next year.
-Brian 1/1/11
Brambleberry Cottage is about a forty minute drive for us, but believe me when I say - it is well worth the travel time! I have taken tea there on two separate occasions and both were positively heavenly. It's located in downtown Spokane in a cute, little two-story house and has two separate tea rooms to accomodate 16 - 20 people (I'm guessing). They have a marvelous selection of tea, (the vanilla bush rooibos is a favorite of ours) and wonderful sweet and savory accompaniments. We had mini cheesecakes, a fruit tart, chicken salad and cucumber sandwiches, and scones. Beautiful, comfortable, decadent, and elegant are a few choice words I'd use to describe Brambleberry Cottage. In fact, I think I shall have high tea there again very soon. Cheers!
-Rachelle 2/25/11
This tea house/restaurant is on my favorites list. A very relaxing place to visit. Excellent food and service, also interesting rooms all redecorated by the owner and friends (her side business is decorative painting - they painted TWIGS Restaurant in Riverpark Square). Also a great place to go for a party or a special occasion. I took my mom and a very good friend there for their Mother's Tea , and we all had the best time!
Thanks Dawn!
- mim 10/12/06
As the editor of Northwest Woman Magazine I am always on the lookout for the very best Spokane has to offer and a special a place to celebrate womanhood; the Bramblebbery Cottage is one of my favorite places to be when I want to impress a client. The food is always excellent, the teas just fresh and flavorful, the ambience warm and inviting and the staff attentive. It is a delight to know that my clients have gone back on their own... along with their mothers, daughters and girlfriends. Their scones are some of the best I have ever had and when I need a place to just unwind from a hectic deadline -- this is my secret hiding place to relax and enjoy the simple pleasures of a cup of tea.
- Charity Doyl 11/12/06
I visited this cottage tea room on a very hot day, but there were fans and it was very comfortable. The decor and ambience were wonderful. There were rooms both up an downstairs and many items for sale throughout. I sat in a wicker rocking chair at a teacart and the server was genuinely friendly and took such good care of the patrons. I felt very pampered and the food was ample and delicious. It is the first tea room i've been to where you could change and try different teas which allowed me to go from a black tea to herbal. It was truly an enjoyable experience and i plan to take my friends and great nieces there! Thank you.
-Pam D. 07/07
My favorite place to enjoy tea is the Brambleberry Cottage. My experiences there have been really special. I have enjoyed taking friends and family over the years and have never been disappointed. The staff is friendly, caring and attentive, and the food which is excellent is always made fresh daily. The gift store is charming and there is a wide selection of teas available as well as tea paraphernalia. I have been to many tea rooms and Brambleberry ranks tops on my list, I highly recommend it, and look forward to my next visit.
-Kaye R.
My Red Hat group been to Bramble-berry Cottage several times in the past and plan to go again this year. We have always been treated well and given great service. The food is great and the staff are courteous and helpful. There is a cosy feeling of the decor and setting. The prices and food are very competitive with other tea house's in the area. I would and have recommend Brambleberry's to others.
-Ardie M.
I have been going to tea at Brambleberry Cottage for eight years. This sweet tea shoppe has been a place where I have spent many treasured hours with my loved ones. The customer care and atmosphere always feel like home. High Tea here is more than a treat, it is a delicious time to embrace conversations with those you hold dear. I hope everyone will get the chance to experience this treasure for many years to come.
- Nicole South 10/20/09


We were served in the upstairs tearoom. Excellect service, wonderful selections, an overall lovely experience!
- Mindy 10/17/09
---